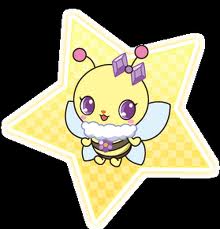 Charotte (チャロットCharotto

?

)

Jewel: Charoite
Species: Bumblebee
Gender: Female
Jewel Power: Elimination of Confusion
Attribute: Magical Blue
Voiced by: MAKO
Charotte is Sagan's Jewelpet Partner. She's a Yellow and black stripped Bumblebee who symbolizes elimination of confusion. She wears a purple crystal bow on her head and a purple jewel necklace shaped like a flower. Appearing in Episode 46 of Jewelpet Twinkle, Charotte and Sagan were also candidates of in the Jewel Star Grand Prix who challenged Sara and Sapphie in the semi-finals of the competition but lose in the end, though both she and her human partner congratulated Sara and Sapphie on their win. Charotte always ends her speeches in "~Charo" and it is unknown how she and Sagan met before the Grand Prix. In Jewelpet Sunshine, she is one of the students at Jewel Land's Sunshine Academy. She is a roommate with one of Kanon's friends Kaede and has a crush on a Mosquito named Katori. Her birthday is on April 3 and her name is based on the mineral Charoite.